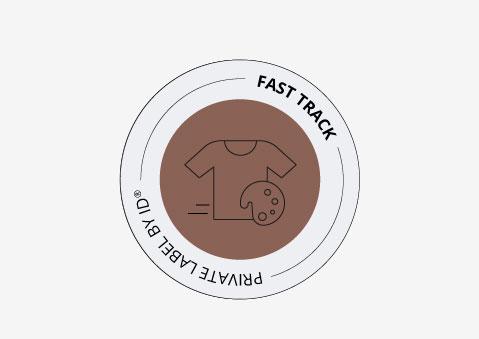 FAST TRACK
Delivery approx. 8 weeks

'Fast Track' is for those who want low-volume, flexible solutions and fast delivery. Here you can choose to customise your own Corporate Wear with your branding based on well-known, classic ID® styles.
check Customized classic ID® styles
check Own name/brand on neck label
check Choice of 32 pre-selected styles
check 8 weeks' delivery time once the design has been approved
check Minimum order: 300 pcs. per style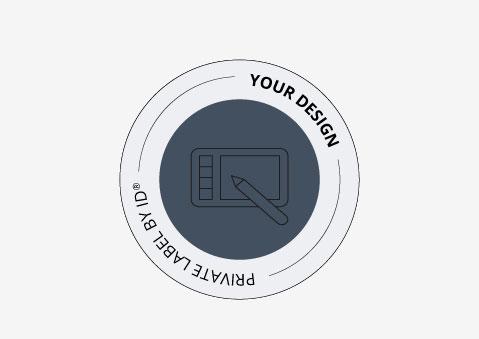 YOUR DESIGN
Delivery approx. 18 weeks

'Your design' is for those who want unique Private Label styles, designed and branded to match your wishes and needs exactly. You have the full range of options when choosing details and materials.
check Design your own unique styles
check Own name/brand in neck label
check The possibilities are endless
check 18 weeks' delivery time from approval of the design
check Minimum order: 500 pcs. per style

SUSTAINABLE CHOICE
Whether you choose the Fast Design or Your Design concept, you always have the opportunity to make a more sustainable choice.
At ID®, we take our responsibilities as a clothing manufacturer seriously. That's why we offer options including: certified Oeko-Tex® (Annex 4 and 6) and GOTS styles.

READ MORE ABOUT OUR CERTIFICATIONS
YOU CAN SAFELY
DO BUSINESS WITH US
1 REALIZE YOUR CORPORATE DREAM
We will do everything we can to meet your requirements for your Private Label or Special Production. We provide a team of experienced designers, purchasers, quality and logistics people.
2 THE RIGHT SET OF SKILLS
At ID®, you get access to attractive shopping opportunities in our network of manufactu-rers. This gives you the assurance that your goods are purchased with an eye for both cost-effectiveness and not least social and environmental responsibility.
3 STRENGTHEN YOUR IDENTITY & COMMUNITY
Together we design your Private Label Corporate Wear that strengthen your identity and community. We believe being dressed for team-work motivate us to make an extra effort.
4 WE SHARE THE REPONSIBILITY
We take our responsibility as a clothing manufacturer seriously. Therefore we have formulated a 'Code of Conduct' that states exactly what we require of our suppliers and partners. All our products are ethically responsible.
Shall we help you further?
Ordering Private Label should be quick, simple and safe. Every year, we supply Private Label collections for customers in Denmark and abroad. Send us a message or phone us on +45 9749 2144 and we will move the process forward for you. All messages will be answered within 24 hours.